Products
We offer several different options to suit a variety of budgets and needs. Please call or email us for more information on products, pricing, current promotions and custom options. We will work anywhere in South Australia with a small $1per km travel charge outside 40km from the Adelaide GPO.
PRE PURCHASE BUILDING INSPECTION
An extensive and thorough report which conforms to Australian Standards AS 4349.1 - 2007 Pre-purchase Inspections - Residential buildings, which is A written document between 20 and 32 pages long usually delivered within 24 hours of the Inspection occurring. We also add digital photos of our discoveries and relate them to topics mentioned in the report. We will let you know what you can to do once you have moved in to maintain your new home in good condition and to reduce the potential for expensive maintenance repairs in the future. You can meet the experienced and qualified  inspector onsite afterwards at no extra charge to discuss the problems found or we can call you to put your mind at rest straight after the inspection.
What Is Inspected (where access is available)
Roof - covering, sagging, drainage, flashings, gutters, skylight, chimney (visual only), fascia, barges, downpipes
Exterior - drainage, wall cladding, trim, doors, decks, stairs, timber, windows
Masonry - salt damp, rising damp, cracking, fretting, subsidence, mortar, damp proof course
Attic - roof structure, signs of water leakage, access, party walls
Interior -  every room: walls, ceiling, floors, doors, windows, cupboards
Kitchen - cupboards, drawers, bench tops, sink, tap operation, visible plumbing
Bathroom - tiles, caulking, grout, shower/screens, bath, vanity, toilet, tap operation, visible plumbing
Fireplaces - hearth, mantle, vents, chimney (visual only)
Structural (visible) - foundations and footings, framing (walls, floors, roof), lintels
Subfloor- where access is available, cellars
Insulation - batts, vapor barrier, down light shrouds, fire hazards
Ventilation - roof, soffits, bathroom, laundry
Plumbing - (visible plumbing only), water source , leaking pipes, drainage, related piping, water hammer, water pressure, tap operation and hidden leaks behind the tiles
Electrical - (visible electrical items only), polarity, switches, power points, lights
If access is possible we will check sub floor in timber floorboard constructions. We also check fencing, retaining walls (under 700mm high), driveways, paving, pergolas, verandas, garages, carports, sheds, painting and much more. We have experience with state-of-the-art moisture meter technology, which can detect salt/rising damp and leaking pipes even 30mm behind tiles!
Pricing:
Pre Purchase Property Inspection
$395 inclusive *

*up to 2 stories high and within 40km of the Adelaide GPO

Call for pricing on rural properties or houses 3 levels or above
Click here to download a sample BUILDING INSPECTION REPORT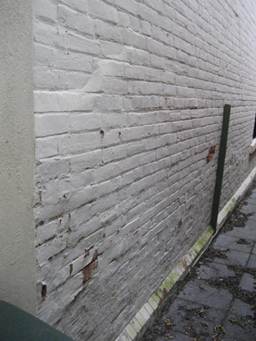 This wall has been patched to attempt
to hide serious cracking and rotational movement
in the brickwork, it also has high damp readings due to poor drainage
and no damp proof course fitted.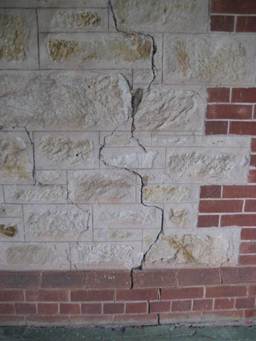 Cracks like this can be caused by poor
Storm water drainage which also increases
the chances of termite attack and
rising damp that is eroding the mortar.